Two international trainings on the in vitro culture of AM fungi are offered by the CESAMM/GINCO teams.
For more information, visit: International trainings website
"The study of arbuscular mycorrhizal fungi (AMF) and the AMF symbiosis formed with host plants is complicated by the obligate biotrophic status and subtrerranean nature of the mycobionts involved" (Fortin et al., 2002).
To overcome this, several attempts have been made over the last 25 years to culture these organisms in vitro. This has led to the development of the Glomeromycota IN vitro COllection (GINCO), hosted jointly in Belgium at BCCM™/MUCL (GINCO-BEL) and in Canada at ECORC in charge of CCFC (GINCO-CAN).
This website documents GINCO, the largest collection of AMF exclusively cultured in vitro at the service of the scientific community and industrial sector.
Stéphane Declerck & Yolande Dalpé are the persons in charge of the GINCO collection.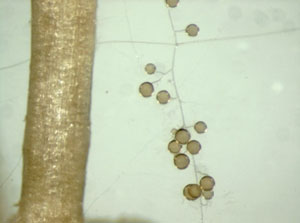 Glomus Clarum MUCL 46238 on root organ cultures.
Address :
BCCM/MUCL GINCO-BEL Culture Collection
Microbiology unit
Université catholique de Louvain
Place Croix du Sud, 3 bt 6
1348 Louvain-la-Neuve
BELGIUM
tel. : +32 10 47 46 44
fax : +32 10 45 15 01